Berlenga Grande Beach is the most famous beach on the island of Berlenga Grande. It is located next to the fishermen's quarter.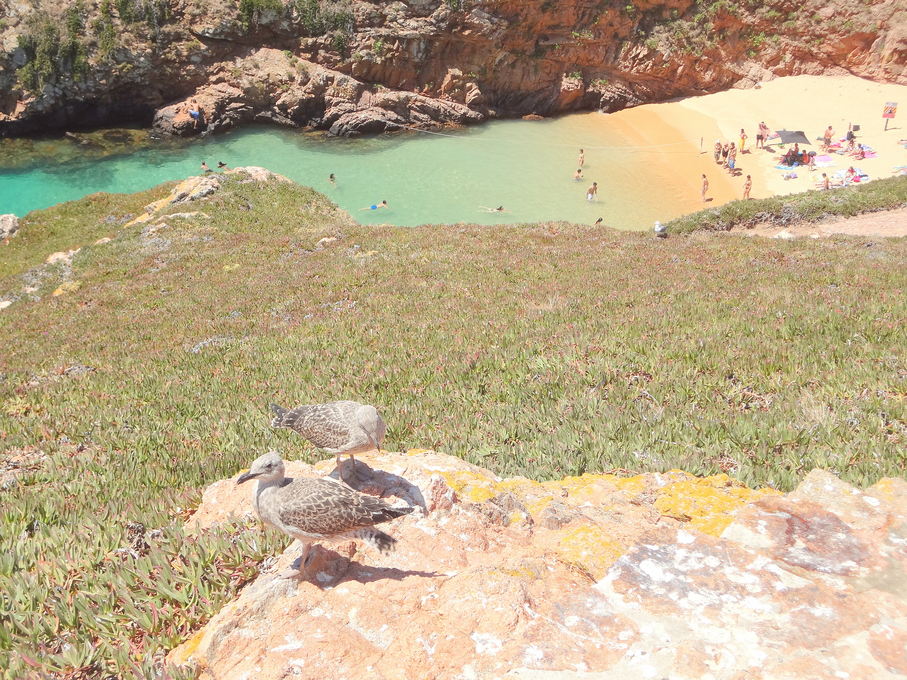 There are other beautiful beaches in Berlengas, but the most popular is Praia do Carreiro do Mosteiro, the other name by which Praia da Berlenga Grande is known.
Bairro dos Pescadores is located on the southern slope of the so-called Ilha Velha, next to the anchorage where the Monastery of Mercy once existed.
Therefore, this is the most central beach on the island since it is located in the cove of the maritime pier that connects the archipelago where the Berlengas Nature Reserve and Peniche are located.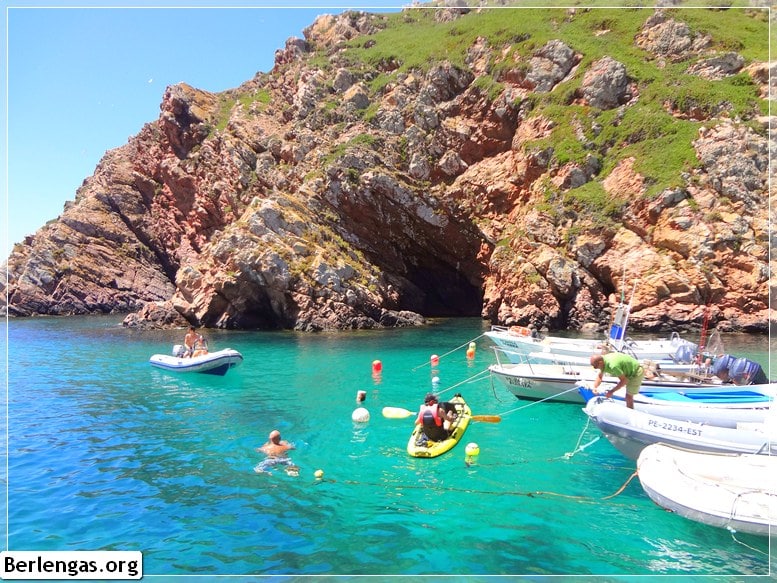 Berlenga Grande Beach:
Transparent and crystalline waters.
White sand
kayak rental
Possibility of diving and snorkeling
Public toilets are closed.
nearby restaurant
Praia do Carreiro do Mosteiro has excellent bathing conditions near the anchorage.
It is about forty meters long, made of golden sand, and has no toilets.
The Carreiro do Mosteiro beach owes its name to be on the way to the old Monastery of the Order of Saint Jerome, built at the beginning of the 16th century but no longer exists because of the various pirate attacks destroyed that the island suffered throughout the island. the ages
---
Frequent questions
---
Are there any beaches in Berlengas?
There are several beaches in Berlengas where you can enjoy crystal clear waters, white sand, and a great day at the beach.
Which is the most famous beach in Berlengas?
The best-known beach in Berlengas is Praia do Carreiro do Mosteiro, also known as Praia da Berlenga Grande, which is close to the boarding pier on the island of Berlenga.
Can you do excursions from Berlengas?
 Several companies run adventure tours, theme tours, diving, and snorkeling around the islands. See the page of things to do in Berlengas. cosas para hacer en Berlengas
How much does it cost to enter the beach?
The entrance to Praia da Berlenga Grande is free. You have to pay for the boat ticket from Peniche. See the page for boat times and prices. horarios y precios de los barcos
Are there restaurants on the island?
Restaurante Mar e Sol is the main restaurant in Berlengas. It has a lovely terrace, with a beautiful view of the beach and the sea. See the page where to eat in the Berlengas. donde comer en Berlengas
How long is the boat trip to Berlengas?
Considering the calm sea, the boat trip lasts between 25 and 30 minutes. If the sea is rough, it can take 30-45 minutes. See the page on how to get to Berlengas. cómo llegar a Berlengas
---
Photo Gallery
---
Photographs of Praia do Carreiro do Mosteiro in Portugal.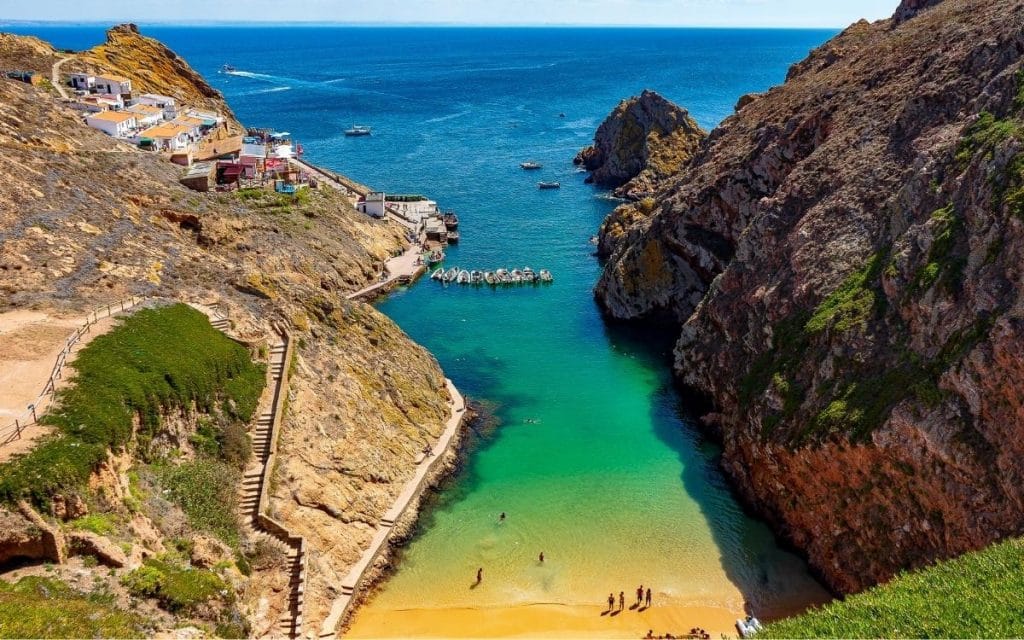 ---
Map
---
---
The beaches in Berlengas
---
You can try the smaller beaches, such as Praia do Forte or Praia Cova do Sonho, with reduced sand that almost disappears at high tide but whose intimate nature allows for a very different experience.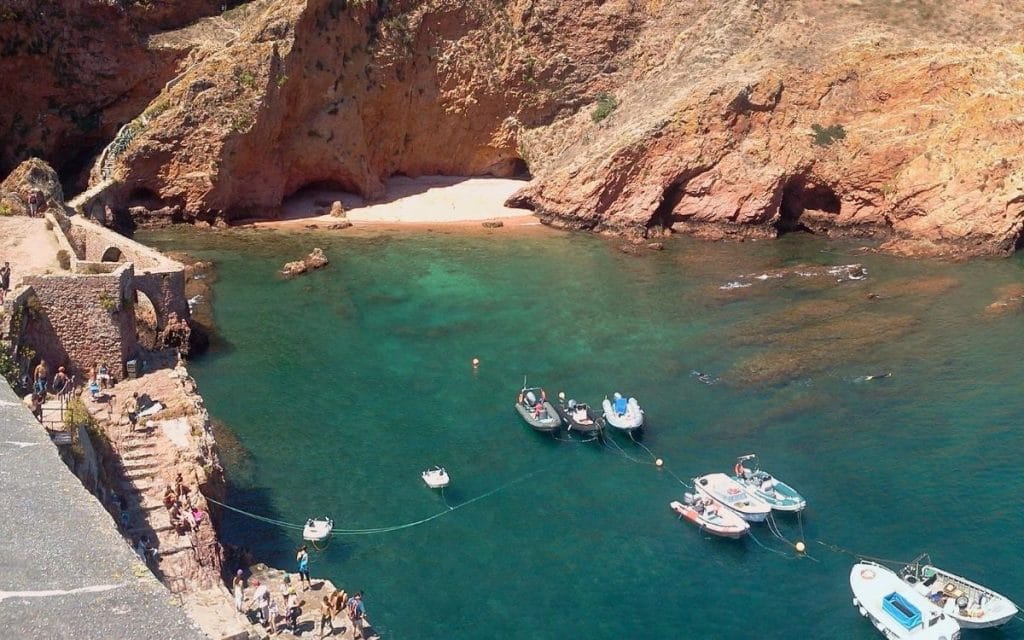 Berlenga Grande Beach
Fort Beach
Cova do Sonho Beach